Last month I was traipsing around Skopje admiring the beautiful ligatures of Macedonian Cyrillic and sampling the local burek when I stumbled upon a handful of plaques with quotations from Mother Teresa — she was born in Skopje, after all. One plaque in particular had a quote so preposterous that I just had to take a picture of it: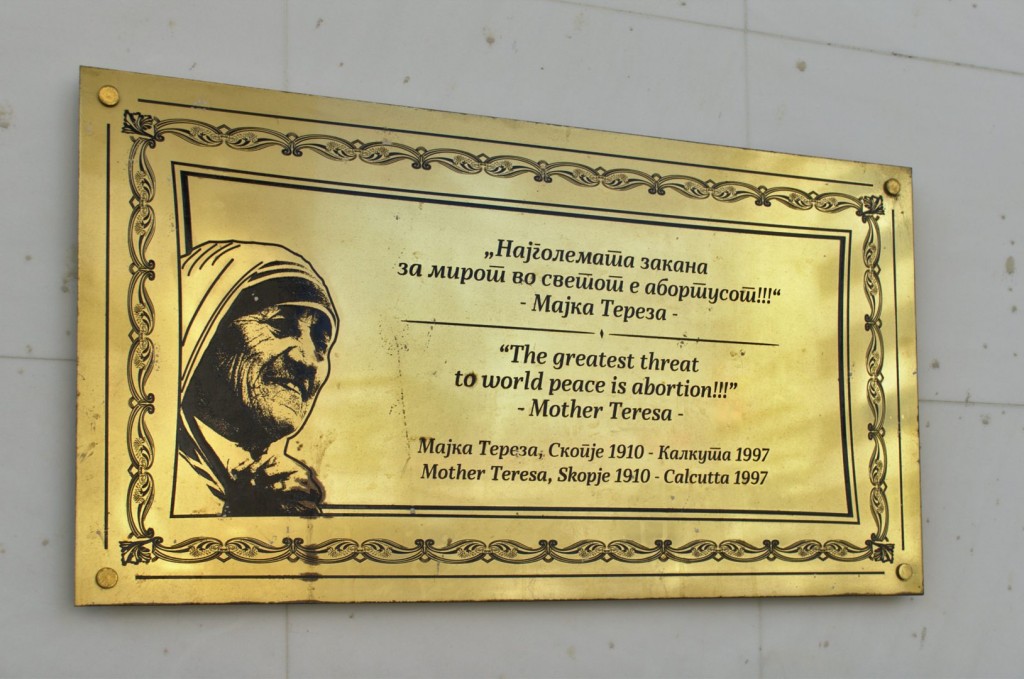 She probably said this publicly more than once, but I first read it in the context of her 1979 Nobel Peace Prize acceptance speech:
[…] the greatest destroyer of peace today is abortion, because it is a direct war, a direct killing – direct murder by the mother herself. […] Because if a mother can kill her own child – what is left for me to kill you and you kill me – there is nothing between.
What an absurd thing to say! I would like to have seen the look on people in the audience's faces when she said that. I imagine quite a few were thinking "Wait, did she just say 'abortion'?" This lady seems to have rolled up her hardcore Catholic dogma and smoked it before the speech.
By the time she was giving that speech, Mother Teresa would have lived to see several major international military conflicts — World War I, World War II, and the Vietnam War, to name a few — where the combined loss of human life would exceed 100 million people. Wouldn't war be a more appropriate "greatest destroyer of peace"? Or what about any of the many causes of war, like corporate greed, nationalism, competition for natural resources, etc?
Questionable Moral Character
This is only the tip of the Mother Teresa iceberg of absurd and untenable world views. Christopher Hitchens — perhaps her fiercest and most-vocal critic — summarizes this nicely in a piece he wrote in 2003 on the news of her beatification:
MT was not a friend of the poor. She was a friend of poverty. She said that suffering was a gift from God. She spent her life opposing the only known cure for poverty, which is the empowerment of women and the emancipation of them from a livestock version of compulsory reproduction.
Unsurprisingly, the Catholic Church, that beacon of moral character over the last two millennia, has announced that Mother Teresa is to become a saint in 2016. Bah humbug.